&nbsp

Please Meet: Mana Ionescu
Leading up to the 3rd Annual Little Black Dress Night, we're giving you the special chance to get to know some of our featured guests. Mana Ionescu is the president of Lightspan Digital, an innovative digital marketing firm.
ChiTech: What led you into tech and entrepreneurship?
Mana Ionescu: With tech, it had to do with my personality. I went to a math and physics high school, I've always been interested in solving problems through new tech solutions. The entrepreneurship journey was a long one. I'm an immigrant from Romania, so I took to corporate route first. I didn't feel free to follow entrepreneurship until I got a green card. Part of my drive to become an entrepreneur had to do with the sense of freedom that comes with becoming a U.S. resident. I also reached a point in my corporate career where I was between the marketing team and an executive level and felt like I wasn't innovating or leading, and I wasn't learning. So I started doing pro bono work on the side. I noticed there was a clear path from the marketing I was doing and the results I was seeing. Once I had a process, I quit my job, and made the leap into bigger things.
What was the hardest thing about starting your own business, Lightspan Digital?
You have to constantly pursue growth and it's a very lonely journey whether or not you have a partner. When you're the leader of a company, no one praises you. You have to handle things when they go wrong and keep the employees and organization happy. It takes tough skin to go through the journey without getting discouraged. It works very well for people who don't need the constant reinforcement and can drive through risks.
You say on your website that you're trying to "bust digital marketing myths." What do you mean by that?
There is so much bad marketing out there and yet there's so much money being pumped into it. I see a lot of marketing dollars thrown out the window. Without proper strategy to build models where you test, learn and innovate, it's hard to get results. There are also a lot of tawdry concepts being pushed around by bloggers too. So I try to teach clients how to simplify and take a data-driven approach.
You also say you "make no little plans".
That's a Daniel Burnham quote. He was an architect considered the father of modern Chicago. It's about dreaming bigger and being bold and brave.
What does that mean for you considering your background as an entrepreneur?
I am a dreamer, just like him. I've always been a builder. I build relationships and build people up. And so I've had to constantly build myself up, as I've always done things by myself.
How do you see yourself changing the company in the next two years?
We're looking more into the innovation space. You have to be a technologist to be a marketer these days. We're looking to continue to advance how we combine those fields.
What role will your company play in the bigger shift to combining tech and marketing?
We're going to get more into tech. We're interested in AI and machine learning. For example, Snapchat is a powerful augmented reality program. And it's also a marketing platform. Google algorithms have also shifted into more and more layers. So by understanding these technologies and keeping up to date, we can provided better content solutions for our clients in the future.
Can you give me three words you would use to describe yourself?
I feel like I'm filling in a dating profile! Resilient, generous, and social. I love people.
What do you see as your biggest accomplishment?
There isn't one thing because accomplishments aren't singular. You build up on them. Being seven years into this entrepreneurship journey and we haven't gone belly up is a pretty big accomplishment. The relationships I have with people are also very important to me.
Who are some of your heroes?
Well, Daniel Burnham of course. In terms of toughness and boldness, Muhammad Ali. He was relentless. I'm also a huge fan of Tina Fey, and how she's revolutionized the role of women in comedy.
What did you want to be as an adult when you were growing up?
So many things. A fighter jet pilot, a physicist, a lawyer. Anything you could imagine.
When you were in school, who was your favorite teacher?
My English teacher in high school meant a lot to me. My French teacher was also so tough and I learned a lot.
What is something that not a lot of people know about you?
I'm shy. Most people see me as social and an extrovert, but I get nervous and have to ease into social situations.
Do you have any advice for the young ladies of ChiTech?
Stick with it. We have a lot of girls doing STEM in high school. By the time they graduate from college, there's a huge drop off. We have a lot of programs from women in tech through high school starting as young as preschool, and we also have a lot of support for professional women in tech as well. So what's happening there? I'm not sure, but we need to address it. Women in college and women professors need to have a seat at the table too, and for ladies to not drop out and change majors.
I'd encourage the young ladies to reach out to women involved in tech in higher education about how to stay on path and graduate with those degrees in STEM.
About Mana Ionescu: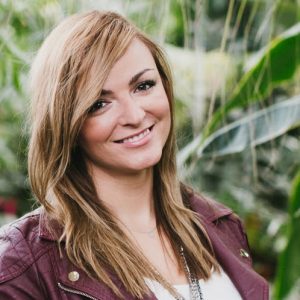 Mana is the founder and president of Chicago digital marketing agency, Lightspan Digital. The outspoken Romanian loves busting digital marketing myths, and teaching how to do social media marketing right. A sought-after speaker, she's been sharing knowledge as Kellogg Executive Education faculty and via numerous conferences, from Techweek to SES, from Social Media Week to MPI TechCon, from Marketing Profs University to Pubcon. Passionate about underwater conservation, Mana is a volunteer diver at the Shedd Aquarium. In 2014, Mana was awarded the "Chicago Woman Making History" Outstanding Entrepreneur Award by the City of Chicago Treasurer's Office.
Learn more about sponsoring a table for your company at the 3rd Annual Little Black Dress Night by contacting Kelly Jones, Executive Director, at kjones@chicagotechacademy.org