When
Thursday, May 24th, 
5:30-8:00 PM
Where
mHUB, 965 W Chicago Ave, Chicago, IL
Emcee & Moderator
Meghan Dwyer
WGN
Reporter
Meghan Dwyer is an Emmy-Award- winning reporter who joined Chicago's Very Own WGN news team in March 2017.
Prior to joining WGN, Meghan was an investigative reporter at WITI in Milwaukee, Wisconsin. While working for WITI, her investigative and consumer reports led to class action lawsuits and multiple changes in Wisconsin state law.
Her journalism career started in 2011 at CBS affiliate WIFR in Rockford, IL, where she was a crime and legal reporter. In 2013, she won the Illinois Broadcasters Association Silver Dome Award for Best TV News Reporter. Her work has also been recognized by the Illinois Associated Press, the Milwaukee Press Club, the Wisconsin Broadcasters Association, and the Midwest Broadcast Journalists Association.
She has won seven regional Emmys for her investigative reporting, and has been nominated for sixteen others. She was also an Investigative Reporters & Editors Award Finalist in 2015 for her series Speaking up for Special Needs. The series uncovered the deaths of dozens of children with disabilities, despite repeated reports of abuse and neglect to state welfare agencies.
Meghan earned her Master's degree from the Medill School of Journalism at Northwestern University, and her Bachelor's degree from Indiana University-Bloomington. She also has a law degree from Indiana University's Maurer School of Law, where she was an associate on the Federal Communications Law Journal. Meghan was a corporate litigator at prominent Chicago law firm before changing careers in 2011.
Meghan serves on the Board of Directors for Rainbows for All Children, an Evanston based nonprofit that is committed to helping grieving children after they lose a parent to death, incarceration or divorce.
Opening Address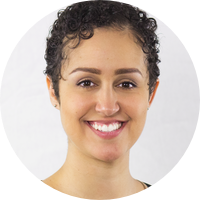 Cassandra Black
Groupon
Global Senior Lead, Inclusion and Diversity
Cassandra J. Black has successfully moved across a variety of industries – a journey that began in healthcare, continued on to government/aviation and financial services, and most recently includes work in the technology sector. Throughout her career, she has advised global organizations and led strategic transformational initiatives focused on companies' greatest asset: people. Today, Cassandra serves as Groupon's Global Senior Lead, Inclusion and Diversity, where she spearheads the company's global inclusion and diversity strategy across the pillars of talent, culture, and marketplace. In parallel, she is working towards the completion of her certificate in Strategic Diversity and Inclusion Management from Georgetown University in Washington D.C.
Cassandra's passion for advancing diverse top talent and building inclusive environments stems from her own experiences – in her words, "As a Mexican woman in Corporate America, I have been extremely fortunate to have amazing people in my life who have advocated for my dreams and have opened doors to opportunities that I never thought I would have. In turn, I want to do the same for others."
When not at work, Cassandra actively works to improve and strengthen the Chicago community, serving as an advisory board member to the Nova Collective and America Needs You, Illinois. Cassandra is engaged to her college sweetheart and a proud mommy of a beautiful two year-old daughter, Isabella.
This year's panelists embody the pioneer spirit, leadership, and grit that ChiTech's Young Women's Leadership Society cultivates.
Sponsors


Steve & Betsy Young
Illinois Technology Association
ORBA
VASCO
Objective Paradigm
Uptake
Individual tickets and sponsorships may be purchased below. For more information about sponsorship levels, please click here or contact Lance Russell at lrussell@chicagotechacademy.org. Sponsorship payments may also be mailed to the school to avoid processing fees.
Chicago Tech Academy is a 501c3 non-profit organization and contributions made to the school are tax-deductible.
For multiple individual tickets, please click "Other" and input the appropriate amount (Number of Tickets x $100).
Questions?
We'd love to hear from you.