&nbsp

Please Meet: Tijadah
Every week leading up to the 3rd Annual Little Black Dress Night, we'll feature a member of Young Women's Leadership Society. This week, we're featuring Tijadah, a ChiTech senior with a dedicated work ethic.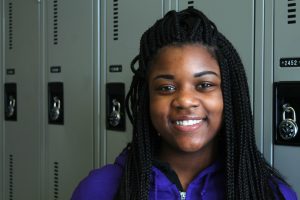 Tijadah is a senior at ChiTech, ranked fourth in her class. She originally came to ChiTech after grammar school to follow her friends, but soon discovered a STEM education was practical for the future. Tijadah joined YWLS her sophomore year, and has since formed a sisterhood with her fellow members. She admires the support and positivity the club brings. Her favorite YWLS memory is when YWLS traveled to Tallahassee, Florida to visit three HBCU's, an experience she'll never forget.
Hard working, self-motivated and forgiving, she plans to enroll in a four-year HBCU school after graduating from ChiTech. She hasn't decided on her major yet, but believes she'll be successful in whatever she decides to pursue. Tijadah's friends describe her as open minded and helpful. Her role model is her cousin, Calvin, a college graduate who she sees as "walking positivity" and who is teaching at a college in Atlanta. Tijadah lives on the West Side of Chicago.
Be sure to register for the 3rd Annual Little Black Dress Night. You can also learn more about YWLS here.