Chicago Tech Academy's Young Women's Leadership Society Presents the 7th Annual Little Black Dress Night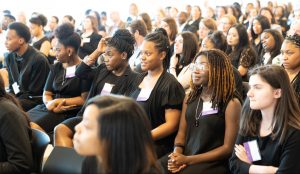 Chicago, IL, March 11, 2021 — Chicago Tech Academy's Young Women's Leadership Society is a year-long program that supports female students' professional advancement as future leaders in technology and entrepreneurship. The 7th Annual Little Black Dress Night will be held virtually on May 12, 2021 at 4 PM and will feature critical and timely conversations about diversity and equity in STEM.
"I first became involved with Chicago Tech Academy through 'Little Black Dress Night' and it was life changing for me," said ChiTech Board Member and LBDN Co-Chair Colleen Egan. "ChiTech is the embodiment of empowerment for our next generation of entrepreneurial thinkers and Little Black Dress Night celebrates our students' remarkable journey of discovery, their passion, and their individual power to change the world."
This annual sell-out event brings together speakers and thought-leaders from a wide variety of backgrounds to share their ideas on how to tackle the challenges faced by both entrepreneurs and students in STEM fields. YWCA CEO Dorri McWhorter will keynote this year's Little Black Dress Night. A proven leader in the corporate and social change sectors, Dorri prides herself on being a socially-conscious business leader throughout her career.
"At the core of our work, ChiTech is diversifying the STEM industry by reducing barriers for Black and Brown students from low income backgrounds to enter careers in technology," said ChiTech's Sr. Director Tiara Wheatley. "One of my favorite parts to this annual event is the dynamic lineup of speakers and panelists who inspire our girls and attendees."
This year's panel brings together industry titans with proven experiences in diversifying companies and emerging power leaders in Chicago. Moderated by 2019 LBDN panelist and DEI lead at ActiveCampaign Reem Jaghlit, the LBDN panel includes Dr. Garry Cooper, Jr., (CEO, Rheaply), Mpho Komanyane (Manager, AHEAD), Dr. Lynessa Rico (Entrepreneurship Director, National Louis University), and Leslie Vickrey (CEO & Founder, ClearEdge Marketing).
Five to Nine Co-Founder & CEO Jasmine Shells will deliver this year's Lightning Talk.
Little Black Dress Night is a culmination of conversations with business and technology leaders throughout the school year for girls in the Little Black Dress Society. LBDN directly impacts ChiTech's programs and ability to increase the number of female students who pursue tech related careers and degrees and utilize a culturally relevant and equity-focused lens.
To learn more about the event or purchase a ticket, visit www.chitech.org/lbdn2021. To engage your company or inquiry about corporate sponsorship opportunities, contact Tiara Wheatley, sr. director of corporate engagement and philanthropy, at twheatley@chitech.org.
Engage with ChiTech: #LBDN2021 | Twitter: @ChiTechAcademy | Web: chitech.org/lbdn2021
About Chicago Tech Academy
Chicago Tech Academy is an educational community whose mission is to educate, empower and connect a diverse next generation of entrepreneurial thinkers to discover their passions, succeed in college and thrive in a digital world.We use project based learning, entrepreneurial principles, STEM education, and real world experience with Chicago companies to shape the diverse next generation of leaders.
About Chicago Tech Academy's Young Women's Leadership Society
The Young Women's Leadership Society at ChiTech provides support for female students' professional advancement as future leaders in tech and entrepreneurship. YWLS sponsors events, hosts workshops, plans college campus visits, and facilitates discussion. All of these activities are designed to examine stereotypes, explore the development of healthy relationships, and fosters the skills necessary for the cultivation of valuable professional networks.  For more info on YWLS visit: https://chitech.org/student-life/ywls/
MEDIA CONTACTS
Chicago Tech Academy
Tiara Wheatley
twheatley@chicagotechacademy.org
773-419-4463