&nbsp

Great Solutions Start with Ideas
Tuesday, June 5, marked the second annual Ideas Day held at Chicago Tech Academy High School.  Students chose gun violence in their community as the topic of their Ideas Day.  The school was split into 15 business teams to develop ideas that may help raise awareness to slow rates of gun violence.
Javonte Peoples, a ChiTech senior and Chicago Ideas Week (CIW) YOUth ambassador, worked with members of Chicago Ideas to make the event happen.  CIW YOUth ambassadors come from high schools all over the Chicago.  The program empowers them to seek new opportunities and pursue their passions whatever they may be.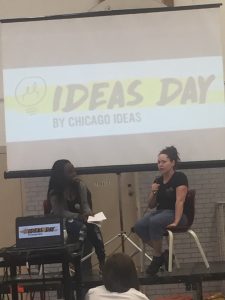 Javonte's team was able to secure an incredible lineup of guest speakers to kick-off the day.  The speakers included:
Executive Chef & Partner
The Girl and The Goat and Little Goat
Co-Founder
The Starter League
Actor, Comedian, Spoken Word Artist
Chicago P.D.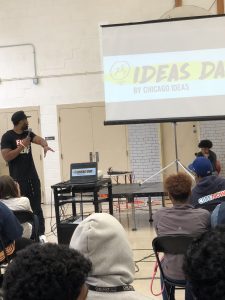 The students listened to the speakers discuss their industries of work, their passions, and how they found success in what they do.
Developed by Chicago Ideas, Ideas Day gives students the opportunity to think about how they want to make an impact for change in their community.  The organization hosts Chicago Ideas Day events and activities at schools around Chicago.
Peoples said, "Ideas Day was a gateway for both my future and the future of my friends.  Meeting new professionals and listening to their experiences made it seem more possible for me to pursue a career like the ones I saw.  It was an eye-opener that I really have several choices for my future."
At the end of the day, all of the teams made their idea into a PowerPoint presentation to show the rest of the school.  Their ideas were an inspiration.  Great things are in store for this generation of future leaders.