&nbsp

Please Meet: Jonise
Every week leading up to the 3rd Annual Little Black Dress Night, we'll feature a member of Young Women's Leadership Society. This week, we're featuring Jonise, a dedicated YWLS senior.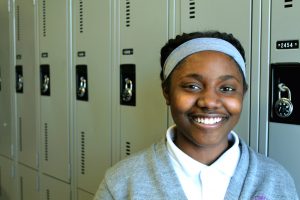 Jonise is a senior at ChiTech. Smart, friendly and humorous, she plans to enroll at Aurora University to study education and become a teacher after graduating from ChiTech. Jonise's friends describe her as driven and ambitious.
She appreciates the leadership experiences she's had in YWLS, and the connections she's made with other young women. She encourages ChiTech ladies to join YWLS because of the support members receive from others. Her favorite YWLS memories are of previous Little Black Dress Nights, where she met other women in tech and heard their stories. Her role model is actress and producer Ellen Pompeo. Jonise admires her self-confidence, free spirit and happy attitude. Jonise hails from Chicago's South Side.
Be sure to register for the 3rd Annual Little Black Dress Night. You can also learn more about YWLS here.