&nbsp

Please Meet: Megan McCann
Leading up to the 3rd Annual Little Black Dress Night, we're giving you the special chance to get to know some of our featured guests. Megan McCann is in charge of her own IT recruiting firm, McCann Partners. McCann's company is also sponsoring the event. 
ChiTech: What led you into tech and recruiting?
Megan McCann: It was an ad in the newspaper the size of a quarter. I don't remember exactly what it said, but I remember why I applied. I was doing international recruiting for my Alma Mater in Springfield, Ohio, but I was inspired to move to Chicago to be closer to my friends. I saw this ad for a recruiting group, hoped my skills were transferable, and applied.
I had no idea what I was getting into. I stumbled into the field of IT. But once I got here, I decided to stay because it's always changing and I love it. I'm always learning and growing. And even though I'm not a technologist, the skills technologists need are always changing, which forces me to always be learning.
What got you to the position you're in now?
I took the leap to launch my own business about six years ago. I came up through the ranks in my industry and have been fortunate enough to try everything from sales to branch operations. I was at a critical juncture in my career, and I decided it was time to venture out on my own.
What was the scariest thing about starting your own business?
Fear of failure.
What were you worried you'd fail at?
When you're working for someone else, there's a safety net that can catch you. When you work for yourself and others become reliant on you for that safety net, you worry you can't provide it. I knew I had the capability and skills from my experience in the industry, but it's different to wake up and be responsible for everything rather than being a part of the equation.
Do you enjoy that responsibility?
I love it. But it's not easy and anyone who tells you it is, is lying to you. It's hard to do good work, but if you love what you do, it ceases to be work.
And you love what you do.
I do.
What's your favorite part of your job?
The ability to make an impact. More specifically, helping organizations solve hiring challenges. I look at myself as a connector. I facilitate introductions at every turn. I think we all have super powers, and that's mine.
What are the most important qualities you look for when recruiting young women?
Curiosity, passion, advocacy for others, confidence, problem solving and critical thinking skills, just to name a few.
How do you see your company changing in the next two years.
We will continue to grow, meaning we'll open more doors for more people and make a broader impact. The ability to open doors, make an impact, and support companies with developing their team and talent pipeline will continue to be the cornerstones of what we do. With more growth, we can help more people.
There's a lot of change in our industry right now that's disrupting how we do things, like new interviewing methods and tools. We'll have to pivot as the market pivots.
What are some of your personal or professional goals?
Every year, I write goals and I read them every day. So, there are measurable goals—like revenue targets and staff expansion—but I also have personal goals.  These intentions and commitments guide my decisions and help me evaluate how I'm doing outside of those measureable goals.
I want to open doors for people. I want to be a role model. I want to forgive myself, since I'm a perfectionist. I want to read more, since we learn a lot from reading. I also want to listen better, live in the moment, have a healthier lifestyle and not have regret. These are some of the intentions and commitments I've made to myself to help me accomplish my goals.
What is your biggest accomplishment?
There are milestones at every step for me. Earlier this year, for example, I did a talk for General Assembly and talked about how I almost let fear take me down a negative business path. So I'm particularly proud that I learned to look fear in the face and realize that I have the capability to do anything I put my mind to.
Who are some of your heroes?
My parents are my heroes. They instilled in me that I could do whatever I wanted to. I grew up in a home where I was encouraged to explore and try anything that was of interest to me. There were no boundaries. And that was amazing.
Every step and turn of my career has been filled with people who have made a difference in my life. That's the important thing about champions, advocates and role models. They are the people who push you forward and help you learn, grow, develop and give back. I have been remarkably blessed with people who have helped me at every step along the way.
What did you want to be when you were a kid?
A doctor. I wanted to help people.
When did you transition to a different path?
I lost my dad to cancer when I was 15, and it was very quick. I realized I couldn't work as a doctor. It would have been too hard for me emotionally. The reason I love what I do now is that I'm helping people, which tends to be an underlying theme in everything I do.
When you were in school, who was your favorite teacher?
My third grade teacher. She believed in me and opened a door for me to realize that just because I might not have been good at every subject didn't mean I didn't have gifts and couldn't apply those gifts.
For example, I don't mind speaking to people, but I don't do well if I'm asked to read out loud. When I was in second grade, my teacher didn't have a lot of confidence in me because I struggled when she called on me. When I got to third grade, my teacher didn't question me, and told me there were other ways to contribute in class. She made me realize it's okay to not be good at everything and that doesn't make you any less successful.
What were you listening to in high school?
Donna Summers. I had a deep closet in my bedroom. I had a record player in there and I would sit in there and listen to my Donna Summers record over and over.
Do you still listen to her?
I think I have it on my iPod.
I'll be sure to put some on the playlist at the event for you.
Thank you!
What's something that not a lot of people know about you, or you wish people knew about you?
I think people assume I'm an extrovert, but I'm not. In the truest definition, my battery is recharged by having time to myself, so I'm really an introvert.
Any words of advice for the young ladies of ChiTech?
I would encourage them to continue to engage with women working in the community and learn from us. As every generation changes, so does society. But I think there are great lessons to be learned, and they just need to ask. We love when (Director of School Culture and Climate) Tiara (Wheatley) brings the ladies to ARA events. Their engagement now at such a young age is going to change our world for generations to come.
About Megan McCann: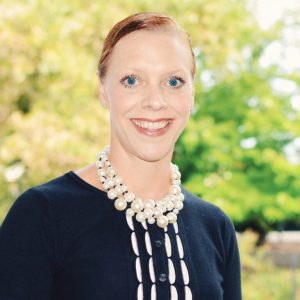 Megan McCann, CEO and Founder of McCann Partners—launched in 2011—is an established IT recruitment leader. She is known for building and leading highly successful IT services firms and for the work she does to advance diversity and cultivate talent across the technology industry.
Passionate about attracting, retaining and advancing women in technology, Megan co-founded ARA—a national organization promoting women in technology through mentorship, networking and open discussion. Megan was named to the 2015 Techweek100 list, recognizing her significant impact on technology and innovation in Chicago, as well as BlueSky Innovation's Vault, featuring 100 of Chicago's most compelling innovators and entrepreneurs. In addition to working with technology leaders through McCann Partners and ARA, Megan serves on the Board of Directors for i.c.stars, both as Vice Chair of the Workforce Development and Events Committees, as well as on the Board of Directors for Lumity.
Learn more about sponsoring a table for your company at the 3rd Annual Little Black Dress Night by contacting Kelly Jones, Executive Director, at kjones@chicagotechacademy.org