&nbsp

Harper Reed: College is worth it
March 31 — ChiTech welcomed a special guest for this week's Power Lunch. Harper Reed is a hacker and engineer who has garnered incredible roles in tech including as Chief Technology Officer (CTO) for Obama for America (2012 Campaign). He travels the world, he explores the internet, and most importantly, Reed makes connections.
Reed spoke to a group of thirteen ChiTech seniors. The discussion was lively, the students asked poignant questions, and Reed was able to quell fears the seniors have about college, loans, and moving away from home.
Reed emphasized the importance of networking. "It got me every one of my jobs. I've only interviewed for a job once," he said. In fact, it was only through a colleague that Reed got the gig with Obama for America.
"Always be hustling, and talk to people about what you're doing now and what you're excited about in the future," he advised students about networking.
And because college is on the brain of our seniors, most of the conversation moved to Reed's college experience. He lived in the dorms, and racked up a massive amount of student loan debt. But he shared his secrets to staying above water when dealing with debt.
"Student loan people are nicer than credit card people. If you have a conversation, communicate that you're still looking for work and can't pay, they're generally going to help you out," he said.
Still, students fear amassing loans they can't pay. Some wonder if college is worth it.
"They can take away your money but they can't take away your experience. If you want to go to college, you can and should," Reed said.
So what should we spend money on?
"Health, family and experiences. Never spend money on things," Reed said.
Reed lives in Portugal some parts of the year. It's probably sound advice.
Learn more about our Power Lunch Series and be sure to follow us on Twitter for updates about our next speakers.
ABOUT OUR SPEAKER
Harper Reed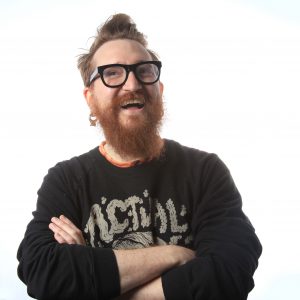 Harper Reed is an hacker/engineer who builds paradigm-shifting tech and leads others to do the same. Harper loves using the vastness of the Internet to bring people together, whether as CTO of Obama for America, CTO at Threadless.com, or on his own projects.
Through the acquisition of his company, Modest, inc, Harper is helping to define the future of commerce at PayPal.
You can often find Harper playing with new technologies, looking for something to hack, or enjoying life in Chicago with his amazing partner, Hiromi and our bizarre poodle, Lulu.
Follow @harper on twitter, check out his homepage or email him.