&nbsp

Learning how to do taxes in high school?
Tax time is upon us. While we dig for our TurboTax passwords and pre-spend our returns, we often do not put much thought into thinking about how we learned the ins and outs of the process. To be honest, I still get confused about whether to claim 1 or claim 0.
Filing taxes is not a content piece that is required to be covered in school but surprisingly students ask to learn about it. If we cover the cells of a leaf, we should probably cover how to pay taxes to local, state and federal governments.
This year we enlisted the help of 15 volunteers from PricewaterhouseCooper's Chicago Office. PwC has an established curriculum for financial literacy aimed at high school aged students.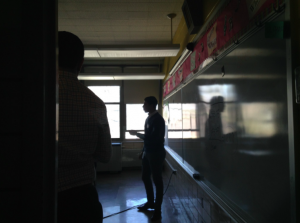 We took a Friday afternoon and divided our 11th grade class into smaller cohorts which each had 3-4 PwC volunteers facilitate a workshop that covered earnings, withholdings, refunds and any other tax related questions students could come up with. Once the workshop concluded, our friends at PwC sponsored lunch for the class while everyone networked and got to know eachother better.
The students were not the only one's who gained from the experience.
"I can save some money by deducting items I didn't know I could" Tim Morris, 11th Grade US History Teacher, said.
The information that the PwC Team shared will help ChiTech students make more responsible decisions about their finances as they embark on summer jobs, internships and eventually satisfying careers.